News
2013 Octoberfest Meet Review
by Dennis Jolicoeur, posted November 13 2013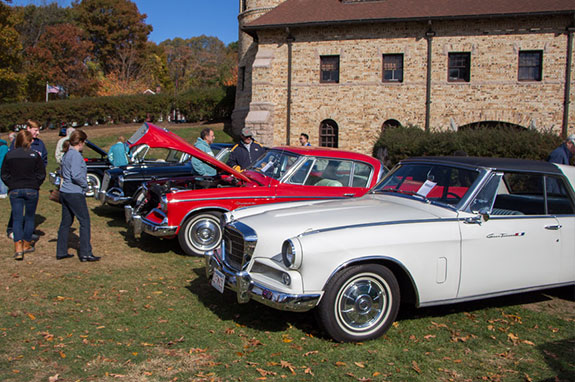 This year, we had pretty good weather for Ocean Bay's Octoberfest on the lawn of the Larz Anderson Auto Museum in Brookline! A little cool if you were in the shade but not so bad if you were in the sun! A good group of Studebaker enthusiasts came from all parts of Studedom to make this another great Octoberfest. It is always great to see so many old friends drive in at this event each year. This was the 23rd consecutive year that Ocean Bay has been meeting on the lawn of the museum. Many club members, guests and their Studebakers have come to this event each year to make this a great end of the year celebration; but there is not a year that goes by that I don't think of old friends and their Studebakers that once graced this lawn and they are just memories now. I find myself and a couple others like me the old men of the chapter now. I do see more new faces and Studebakers lately, it is great to see this tradition continue each October. Such a success is a great testimony to how great Studebaker camaraderie really is!
Again this year we had the Packard Club join us, this year we only had 3 or 4 postwar Packards show up and no prewar models. I would like to see that change next year so please pass the word to any and all your Packard buddies. Adding Packard to our lineup of vehicles makes for a much broader spectrum to the show field.
This year, our event brought in 28 cars which included the Packards, a little on the low side considering the weather was pretty good. I would like to see a little more participation next year to make this an even greater end of the year celebration. One worthy note, this year saw a much greater public showing than in years past that makes me think that Studebakers are sparking some interest. I had a number of the public guests come up to the registration table and ask me how they could vote on their favorite car. With that in mind maybe we should think about a public ballot for a "Best in Show" or "People's Choice" next year.

Octoberfest 2013 Concours Winners
Class A - Prewar – Studebaker, All Models
1941 Champion; Paul Derosier
Class B – Prewar – Packard, All Models
No Entries
Class C – 1946 to 1958 – Studebaker, All Models (except C&K)
1950 Champion Starlight; Terry Fuller
Class D – 1946 – 1958 Packard, All Models (except K)
1956 Caribbean; David Larsen
Class E – 1959 to 1966 Studebaker, All Models (except C&K)
1960 Lark; Ron Ober
Class F - 1953 to 1964 Studebaker & Packard (C&K)
1961 Hawk; Wes Burge
Class G – Avanti (all years)
1963 Avanti; Ken Tarabelli
Class H – Trucks and Commercial Vehicles (all years)
1951 ¾ Ton Pick-up; Paul Desautels
Class J – Non-Stock (Custom and Modified)
1957 Silver Hawk; Roger Guyer

2013 Octoberfest Gallery
Source: Studegram