Events Calendar
2018 Octoberfest
Studebaker - Packard - Avanti Day
Larz Anderson Auto Museum Brookline MA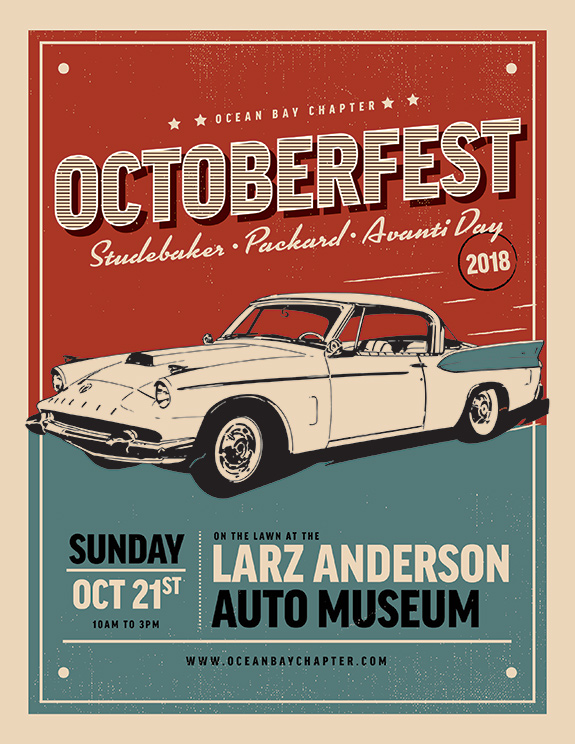 Sunday, October 21, 2018 10am - 3pm Larz Anderson Auto Museum
Join us October 21st for the Annual Ocean Bay Octoberfest, Studebaker Packard Avanti Day. This is the last lawn event of the year at the Larz Anderson auto museum and one last time to get your cars out before they are tucked away for the winter.
In addition to Studebaker, Packard and Avanti, this meet is open to all automobiles manufactured by Studebaker, which includes Packard, Pierce Arrow, EMF, Flanders and Avanti II.
Show Admission will be $15.00 per car; this includes admission for two to the Museum and its new exhibit for 2018.
Classes
A Prewar – Studebaker, All Models
B Prewar – Packard, All Models
C 1946 – 1958 Studebaker, All Models (Non C&K)
D 1946 – 1958 Packard, All Models (Non K)
E 1959 – 1966 Studebaker, All Models (Non C&K)
F 1953 – 1964 Studebaker & Packard C&K Body
G 1963 – 1964 Avanti, All Models
H 1966 – 2008 Avanti II, All Models
J Trucks & Commercial Vehicles, All Years
K Non-Stock (Custom & Modifed)
Trophies will be given out at approximately 2:00 PM
For more information contact;
Dennis Jolicoeur (508) 697-2635
djolicoeur@oceanbaychapter.com
Spectator admission is Adults, $10. Military, seniors, students and children 6-12, $5 and children under 6 are free. Museum Members are always free! The museum is open for your viewing pleasure until 4pm.
Lunch will be available on site for purchase.
No pre-registration available for this show. Please register at the tent day-of